C4 heater vent gauge pods

Posted:
Fri Mar 24, 2017 1:01 pm
I drew up a few different gauge pods that snap in place of the OEM heater vents for the C4 URS4 & URS6. These are 3D printed in a transparent black filament an will be printed in a regular black filament. They are 30.00 a piece shipped inside the USA. for purchases of 3 or more pods discounts are available. If you are outside the USA and interested in purchasing a pod or pods feel free to message us and we will quote you a shipping price. The pods are made to order so once a payment is received along with your shipping information & which pod you want one will be made specifically for you. Also i do accept paypal payments. PM me for info. The gauges that have been tested and known to fit are Autometer, most VDO and the AEM uego. Some VDO and the AEM uego are a little larger than the hole so a heat gun will be needed to heat the inside of the gauge pod hole a little so the gauge will be fit in the pod properly.
Pictured from left to right
Left-Vent gauge pod is made to be mounted in the vent closest to the drivers door and faces the gauge straight forward.
Middle-This pod is designed to fit in any of the 3 middle vents above your row of buttons.
Right-This pod is designed to be mounted in the left most vent closest to the drivers door and is made to aim the gauge at the driver.
Fitment of the left drivers side angled pod.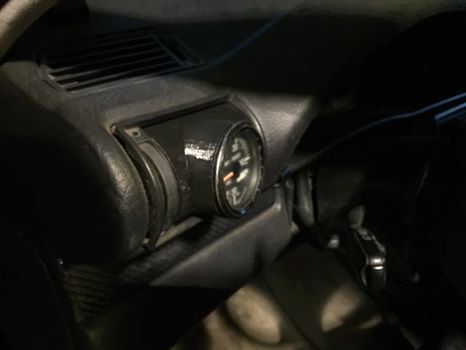 Fitment of the center vent pod