Working on brakes now finally
Step one is to 5 lug swap the car. I have urs front hubs coming from Issam and I finally was able to get rear b5 a4 hubs today from a yard. I started to harvest them out of 4 different cars and had to stop due to rust each time. Today I finally found a non-rusty car in the yard and was able to get them out. Of course I had to buy the whole knuckle assembly and tie rod since I couldn't get either off in the yard.
So next is the brakes. I am going 17z brakes for the front. The hope is that B5 A4 Apikol brackets will work with the B4 front knuckles and URS hubs. I know that Brydon used to make an exact bracket for this but alas - no more.
For the rears, I was considering just leaving them alone and also considering B5 S4 rears but I found some info that says I can use B7 S4 calipers and rotors plug and play on the B5 rear end - which is the exact same as the B4 rear end. I found a cheap set today online and they're on the way to me too. I can run a much larger rear rotor with those.
As for wheels, I found these fellas on Audi Tradition — 18"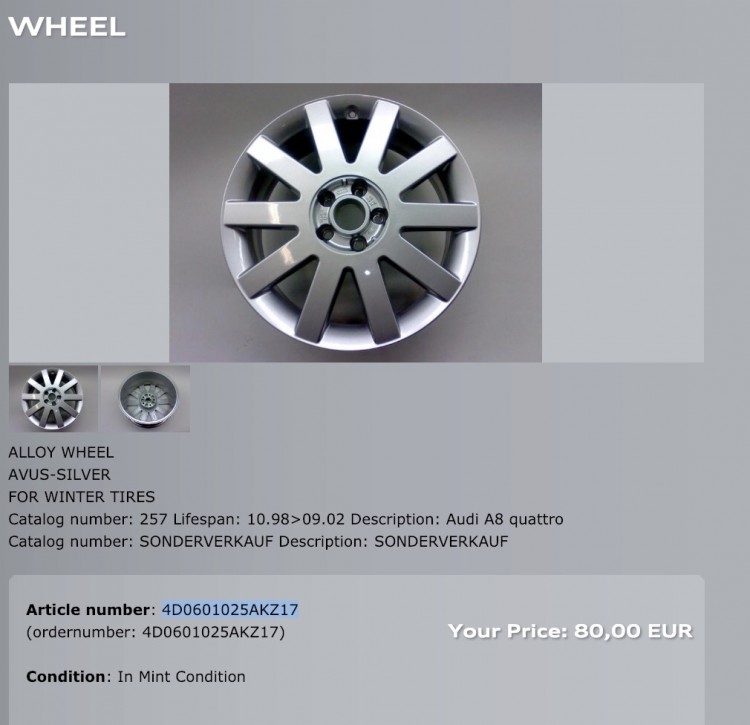 they are listed in ETKA as A8 W12 Winter wheels
Photoshopped on the car:

Anyway, those are coming through Issam as well - big thanks to him for being our Audi Tradition connection!