Hi,
I'm finally done with most of the tuning on my freshly EFI converted NF (10V 2.3L NA), most of my VE map is done and I've been using the car regularly and everything goes smooth except for one thing :
Idle
.
Cold starts / Warm starts aren't an issue, I can get the car to idle ... but I can't get it "fine-tuned" enough it's either :
- The car runs too rich (like 12 to 11.5 AFR)
- Idle is a hair too high, (I'd like 850 to 900 like standard)
- Engine almost wants to stall when I come to a stop / when the coolant fan kicks in.
- Idle is bouncing
I have an ISV on this engine (OEM one)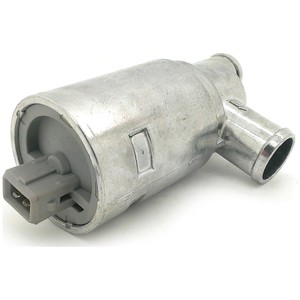 Since I'm running NA, I'm using Boost PWM to set this ISV to the desired position, using a Boost Map Table at low vacuum / rpm
My main issue is that on the stock engine, this ISV is the only way to "set" the idle, so AFAIK, there's no way to adjust the idle on my throttle body (no screw), it's only that small window on the ISV (here in rest position) that allows air to come in
Problem is my engine won't idle / start if I don't mess with this ISV on my boost map.
There's a screw on the side of it but it's filled with resin to avoid tempering ... and I'd like to keep this thing as is (because I'm guessing it doesn't have to do with this anyway)
Question 1 :
- On a "standard engine" with an adjustment screw on the throttle body, I reckon it's possible to get it to idle perfectly without and ISV right?
Question 2a :
- On my engine, the ISV is only supposed to be there to prevent stalling and help for (cold) starts right ? Like "just to smooth things out"
Question 2b :
- If so, it shouldn't be opened all the time at idle like it's currently the case on my car?
Question 3 :
- Since it's the first time I do this stuff and I've never messed with any other EFI'ed car than my own, what are the usual AFR on warm engine at idle?
Question 4 :
- I own another throttle body from a 2.2L NA engine, bolts plug and play on my manifold and it's supposed to have an idle screw on it (except mine apparently got lost and is missing), should I start with that? (I mean once I get my hands on such a screw)
(Bonus) Question 5 :
- Any tips on how to get a clean-steady-perfect idle?
EDIT : Forgot to mention I'm using no TPS, just MAP sensor