I'm moving on to the next project and this one is now for sale. Putting this up and may eventually go to Bringatrailer or Carsandbids but want to give you nerds the option first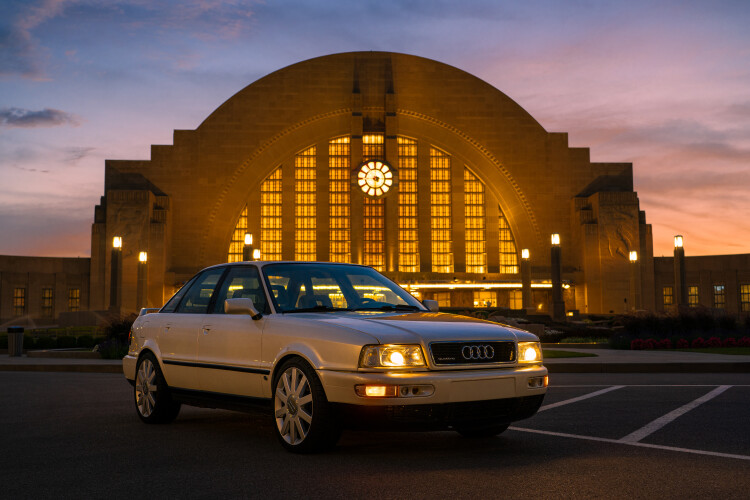 The car is located in Cincinnati OH
Asking $25,000
you can reach me at
(my username)
@mac.com
Some of you know this car, but here's the rundown:
Started as a V6 5 speed. I am the 3rd owner. I bought it in 2016 from a woman in Colorado that had owned it since 1997
About 155k miles on the body. 3,000 - 4,000 miles since the swap
AAN engine from a 92 - totally gone through and rebuilt. IE rods, 7A cams, ARP head studs, Thuppu windage tray. I bought the engine directly after it came back from a machine shop still covered in assembly lube.
Wagner Exhaust Manifold RS2 Evo
1100 cc injectors
Walbro 400 fuel pump
EFR 6258 turbo - chosen for lower lag, more fun
3" downpipe and mid-pipe to 3" Jetex RS2 exhaust - no catalyst
"Terrybullone" (from s2forum) crank pulley
LS2 Coils
Using an RS2 crank pulley and its vbelt plus narrow serpentine belt setup.
RS2 fan shroud and Audi 200 fan
Provent 200 catch can
AC blows cold - not a lot of swapped cars with working AC.
Intake is from S2 - 3B cross pipe and inter cooler. Intake manifold is 3b as well
Currently running E85. I have a tune for pump gas as well - all files will be shared obviously
Running on VEMS and tuned by Marc Swanson at EFI Motorsport
Boosting to 31 psi
Transmission is a 6 speed 01E from a B5 S4 - rebuilt with JHM kit.
"AZC" code rear diff
Southbend Stage 3 endurance clutch
JHM stainless shifter knob
034 short shift kit - the "bilzcat" version with RS2 shifter lockout installed
KW coilovers just installed a couple months ago after finally giving up on the VAP setup I started with
5 lug swapped knuckles all with new bearings
17z Porsche Cayenne calipers in front on A8 rotors 323mm
B7 calipers in the rear w/300mm rotors
All calipers rebuilt during assembly
Tandem brake booster - part VW Phaeton, part 2007 A4
Wheels are 18" D2 W12 wheels bought new in 2019 from Audi Tradition
Power steering rack rebuilt in 2019
Body:
Late Cabriolet front bumper
RS2 headlights
Super rare Treser tail lights
Apparently the car was repainted in 1997. I had the front bumper, spoiler (which I added from my old '93 90) and trunk lid painted. Match is very good.
Interior:
Blue Weave Carbon fiber trim
New old stock 3 spoke steering wheel installed in 2017
S2 auxillary gauges
S2 main speed gauge faces
Blaupunkt Bremen SQR 46 DAB radio (which I love)
This car has the "FUNK" switch, but also sports the only "TAXI" switch I've ever seen. I think I bought the only one from Audi tradition a few years back
THE BAD:
Body looks very nice but isn't perfect. A couple rock chips here and there. A couple small dings but nothing big
Tuning is 95% but could use a couple little tweaks.
There is an odd voltage leak that I can't find. It happens only when the car is run for a super short time. The fuel pump stays on and will drain the battery. I have a kill switch under the dash for the ECU that fixes this - quick flip off, then on.
Some of you have seen this car at the Carlisle shows, or maybe in the vintage issue of the Audi Club magazine
Here are many more photos: (credit to Tanner Gjersvig for the fancy photos)